Beloved Session Pricing
Hawaii is a great place to spend time together; to invest in your relationship away from the busyness of day-to-day life. A Beloved Session can help take your vacation to the next level by creating time and space set apart for the two of you to play and connect.
A Beloved Session offers an opportunity to reminisce and focus on your beloved during the roughly hour and a half we will spend together. I suggest you make plans for a romantic dinner (or breakfast, for the early morning sessions) to continue your time together.
You'll end up with, roughly, 75-125 edited high-resolution images from your session to remember your time here in Hawaii.
Hawaii is bathed in beautiful light around sunrise and sunset and it is really the best time of day to schedule a session. I'll work with you to figure out the perfect locations and time for your situation.
Many locations around Oahu are available, and we'll work together to find one that fits your desires. Sessions are available on any island (with a travel fee, noted below).
If interested, multiple outfits can be incorporated which can give another look to your photos, too!
If you have any other questions, please feel free to ask!
—
Beloved Session Cost: $650
(tax not included in cost above)
—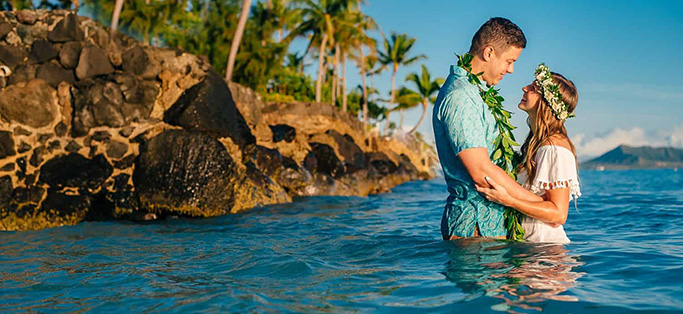 Frequently Asked Questions
How do I book a session?
The contract and retainer (50% of the session fee) secure the session date and time.
How many people is this for? What if we have kids?
These sessions are designed for couples. If you're including your children, we can include them for a portion of the time, and spend more on just the two of you. If you're looking for a larger family session (multigenerational, multiple couples, etc.) let me know and we can talk about your needs.
What about sessions on the other Hawaiian islands?
There is a $500 travel fee for a session on islands other than Oahu.
What about the weather or rescheduling needs?
We'll try to book your session near the beginning of your trip which will give us some flexibility to reschedule it if something comes up. There are not any fees for rescheduling. The weather in Hawaii is relatively wonderful year round. Of course, we do get our share of rain (it is the tropics after all!), but sometimes that's only a minute long and then it's followed by a beautiful rainbow. I'll keep in touch with you about weather throughout the process.
How and when do I see my photos?
It takes about two to three weeks to finalize your photos. They'll be put in an online gallery from which you can download the high-resolution files, order prints, or share with family and friends. You'll receive a printing release for personal use when you download the high-resolution files from the gallery.
What should we wear?
This is a fun opportunity to dress up, but remember, it's Hawaii. Dressing up here sometimes just means a nice pair of slippers (sandals) and an aloha shirt! But mostly, ladies often wear a nice summer dress and the guys wear shorts and a nice shirt (polo, aloha, or likewise). Sandals are encouraged, especially if we'll be on the beach. Colorful is always good. Avoid huge logo/sayings on shirts (guys!) and avoid those matching outfits (aloha prints or otherwise).
Should we get leis?
They are a beautiful way to add something Hawaiian to your photos! They look good and we can use them in a meaningful way during your session. I can suggest some options if you're interested (or if you wanted to make it a surprise, let me know that too). For the ladies: Haku leis are the ones ladies wear on their head. If nothing else, a single flower in the hair can add a nice touch of the tropics to your overall look.
When is the best time to schedule the session?
The light around sunrise and sunset is the most beautiful and colorful of any light. Most of the session you see on the site were shot around sunrise or sunset. That varies only a little for us, year round. Depending on the time of year, the sunrise is roughly 6am to 7am and the sunset is 6pm to 7pm.
Pricing effective Aug 1st, 2018