For the more active couple, hiking Koko Head is indeed one hot and sweaty romantic adventure.
The Koko Head Crater is a volcanic cone left over from years of erosion. It's a sister crater to the cone which has since become Hanauma Bay, which you get a great view of as you're climbing.
The trail is an old railway used during World War II to carry people and supplies up the crater. The remains of the railway, all 1046 ties or so, are the main portion of the 1.4 mile round-trip trail.
Being at the top of the crater gives you an amazing 360-degree view of Hawai'i Kai, Hanauma Bay, Diamond Head, and the windward side of the island (including Sandy's and Makapu'u). The summit is just a short hike after you've caught your breathe at the top of the railroad trail.
// This is a workout
Make no mistake, this is a workout. Many locals, including ourselves, hike Koko Head as a workout a few times a week. An average time up is about 20 mins. And that's huffing and puffing and sweating like you're in a sauna. You might see some really active people doing 15-20 mins.
Most first time people I've seen are around 35 mins or so. 45 mins isn't bad either. It really depends on how in shape you are.
There's no reason to push, just be aware that it is a workout. Come prepared with the right clothing and footwear. We've seen people on the trail in heels – and she wasn't doing well.
The way up is a lot harder than the way down, physically. But the way down isn't easy either because these aren't normal steps and each has to be considered and taken in turn. And as more and more tourists visit Koko Head, the trail becomes worn down and the steps become deeper and harder for those who with short legs.
If you have hiking poles, bring them. Your knees will thank you.
Do not rush. Seriously. Pace yourself slower than you might think at first. There are two parts, divided at the bridge. The first half seems easier at first but will actually wear you down so that by the time you get to the second half (which is much steeper) you might be stopping every few steps to catch your breath.
Bring lots of water. You're going to be working out and sweating for 1.5 hours or so. You need lots of water. Some people might even want a little snack bar at the top (to get some energy back).
// The bridge
The bridge is crossable but there is a path around it (right at the start and end of the bridge on the east side. The trail is VERY obvious, don't go blazing a new one).
The bridge is easier going up and it's helpful as you can stay to the right side. There are sometimes bee nests on the left side under the bridge, which can be annoying more than anything.
If the bridge is at all wet, skip it. It's not worth falling and being hurt.
I (Andy), often take the bridge up and the path down. I've also retrieved items for people who have dropped things (like cameras, etc). Make sure things are secure before walking across the bridge.
// When to hike
Being up there at sunrise and sunset are amazing. There tend to be more people at sunrise, it seems. And you have to hike up in the dark, which can be dangerous or difficult if you're not familiar with it. If you had to pick one, I'd suggest sunset. You'll get to walk up (leave at least an hour before sunset, maybe 1.5 hrs, if this is your first time up).
If you want to hike in the morning, but not in the dark, just wait until you can see (which is normally about 30 mins before sunrise, depending on the cloud cover).
You don't want to start much past 2-3 hours after sunrise as the sun will be beating down on you at that point. Most of the day is nothing but hot sun, so we'd avoid that (especially the early afternoon).
Take your hat/sunscreen/etc — whatever you use to protect yourself from the sun.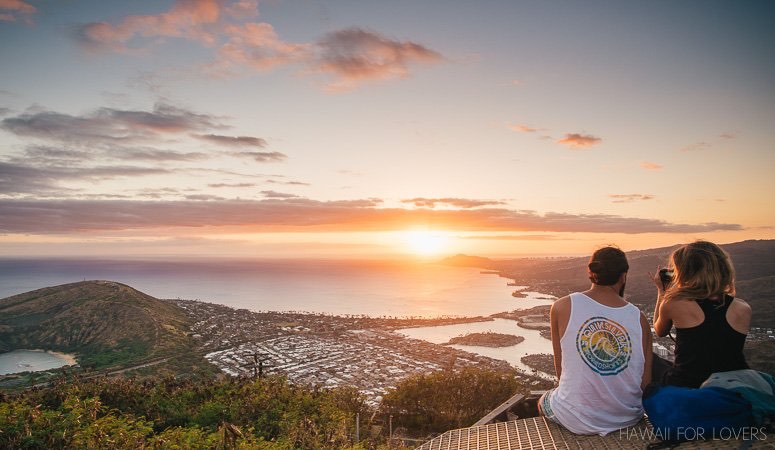 // How to get there and cost
The trail is free, part of the city park system.
To get there you need to go into the Hawai'i Kai community and get to the parking lot at the park. Here's the google map with so you can pull up directions.
Please kokua and take out any garbage you bring in. There are garbage cans and restrooms near the parking lot.